Being a responsible parent means that you have to put a lot of emphasis on your little one's safety whenever he/she go out to play. Sometimes kids will decide to ride bikes all over the place- along rough trails, on the road, and along the sidewalks etc. Unless the kid is wearing a protective helmet, watching him/her on a bike can be disturbing- the thought of him/her falling and hurting badly on the head is horrifying. For that reason, you must invest in a good bike helmet. In this article, we have shared with you the top ten best kids' bike helmets in 2021 reviews.
Before we get down to the main topic, let us first define what a good helmet is: A good helmet is the one that fits excellently well on your kid's head, that has adequate vent holes, that has a good buckle & a fitting chin strap, and a helmet that has enough cushioning on the inside. It's advisable that you always measure your kid's head circumference before placing your order so that you can be sure of his/her perfect size.
As you will come to learn, judging the size from your kid's age can be disappointing because kids of the same age don't necessarily have the same head sizes. To measure your kid's head size, just wrap a sewing tape measure around the biggest part of his/her head (in most cases this is the part right above the ears) and then read its circumference. Now let's proceed to the main topic.
Best Kids Bike Helmet Reviews
10. Bell Side Track Orange Bike Helmet for Kids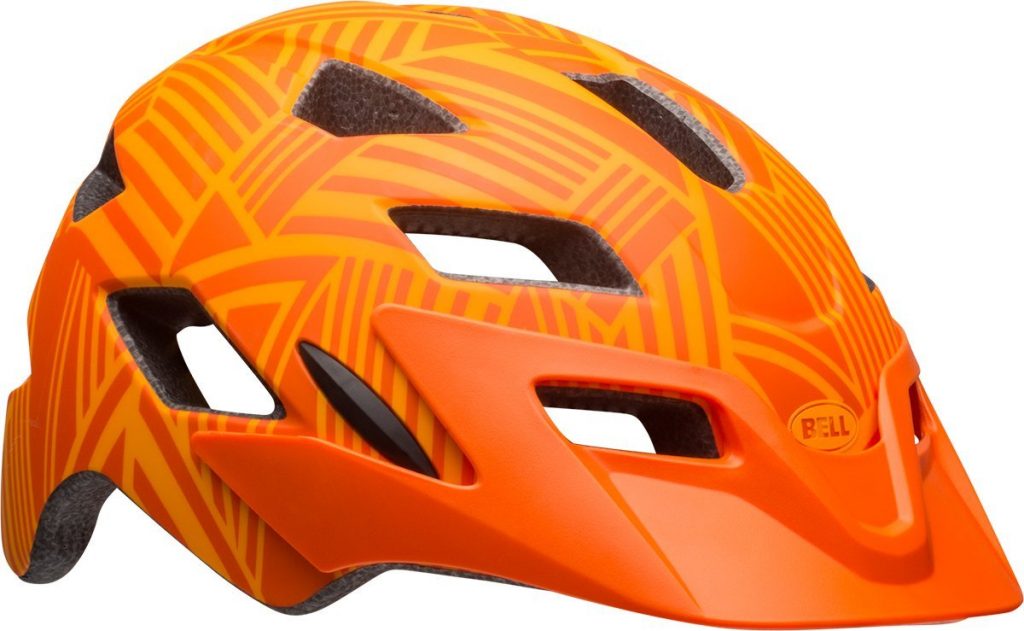 This helmet's outer shell is made of In-Mold polycarbonate while the inner shell is made of shock-absorbing EPS (expanded polystyrene shell) foam. The two can comfortably withstand a high-force impact when the need arises. Its unique Ergo-Fit system makes it easy for your kid to break it in and start riding right away. If your kid is choosy when it comes to colors, this is a good option for you because it gives you over ten colors to choose from.
Some of the additional safety features in this helmet include a cool snap-in visor that shields your kid from direct sunlight, elastic chin straps, and a PinchGuard buckle that keeps the straps well in place. There is a dial adjustment at the back that you can use to adjust the helmet's size so that it can fit well on your kid.
If your kid's head measures 47-54cm (18.5-21.2 inches), this helmet will fit him/her fairly well. The typical age for such measurements is between 4 to 10 years. Your kid's hair will have an abundance of cool air from the ten ventilations all over the shell.Pros
It's bright and visible
It's adjustable.
Tightens up nicely.
It's comfortable and durable.
Cons
It's too big for pre-school kids.
9. Bingggooo Multicolored Bike Helmet for Kids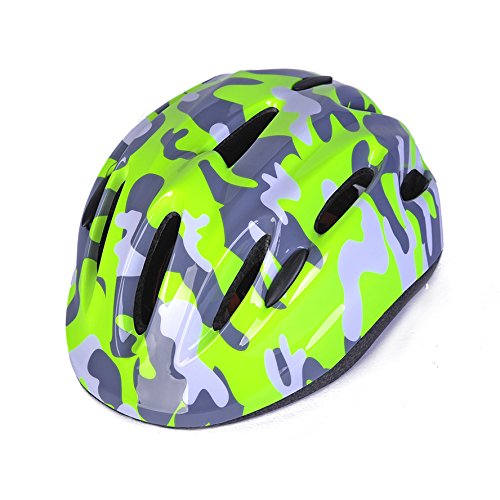 Starting off our review is this adjustable fit head size cycling helmet for kids aged between 3-8 years. Weighing slightly over 200g and its circumference ranging from 50cm to 53cm, it is lightweight and big enough for your kid's best cycling experience. Besides being elegantly designed, the helmet's camouflage color patterns makes it a clear favorite for both boys and girls. It has ten ventilation holes distributed evenly over the top shell for a free and steady air flow to your kid's hair.
Part of the helmet's head protection features is the high-density EPS foam on the inside of the helmet and below the chin. Still on the chin, the straps elastic, durable, and easy to fasten around the jaw.
This product is delivered to you in the best condition because of its awesome packaging. As for the price, you won't believe how affordable it is particularly if you compare the price with its great quality. The customer service team is also highly professional; you can launch any form of complaint with them before and after delivery and you will be satisfactorily served.Pros
Highly durable.
Affordable.
Cute color design.
Adjustable size.
Cons
Read also: Top 10 Best Motorcycle Helmets in 2021 Reviews
8. Raskullz Girls Love Sparkles Bike Helmet.
The expertly mixed color patterns will excite any little girl who loves outdoor biking. With the toy-inspired graphics all over the helmet, your kid will never again refuse to wear a helmet. What's more, the helmet also has lights that blink up on the front thus exciting the kid further. Its circumference is perfect for kids with head sizes in the range of 54-58cm; averagely from three to 8-year-olds.
Its straps are made of nylon, with your daughter's delicate chin in mind. The buckle is an easy hook-in with zero discomfort complaints. If she loves biking on rough trails, don't worry because the helmet's shock absorbing EPS inner shell is all the protection she needs. The outer and inner shells are perfectly glued together, with the cushioning inside shaped more like a human skull; it wraps the head excellently well.
If you are looking for a cute gift for your daughter or niece, this is a perfect choice because of its awesome packaging. The customer service team is also admirably good- how they will professionally handle your problem will make you love them even more.Pros
Adorable.
Affordable.
Sturdy.
Cons
Doesn't have any venting.
Read also: Top 10 Best Kids Electric Cars in 2021 Reviews
7. Funwave Aquatic Design Bike Helmet for Kids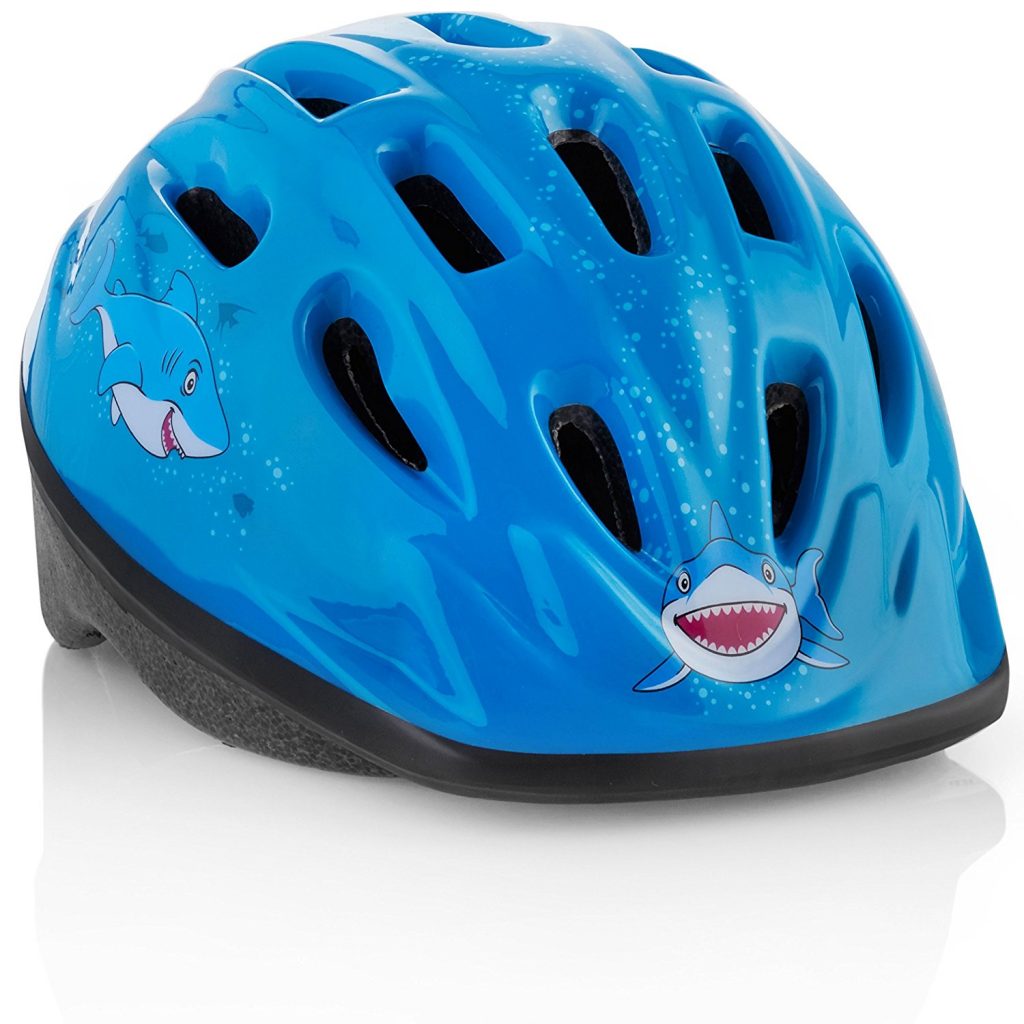 This product works best for kids of ages between 3 and 7 years. It has a fun aqua design that excites both boys and girls: your boy can go with the blue shark design while your girl will definitely fall in love with the pink octopus. Its inner padding comes in two sizes- 5mm and 10mm- for the best shock absorbance and to ensure that your kid grows in it until his/her seventh birthday.
This helmet is adjustable to fit kids of different head circumferences. The straps, on the other hand, are soft, elastic, and adjustable for maximum user comfort. So that your kid can get an unlimited flow of cool air, this helmet is designed with 14 evenly placed ventilation holes. That also makes it versatile- your kid can comfortably use it for mountain biking or roller skating.Pros
It's lightweight.
Adjustable.
Worth the price.
Cons
It's too large for a toddler.
Read also: Top 10 Best Kid's Balance Bikes in 2021 Reviews
6. Bell Rally Blue Bike Helmet for Kids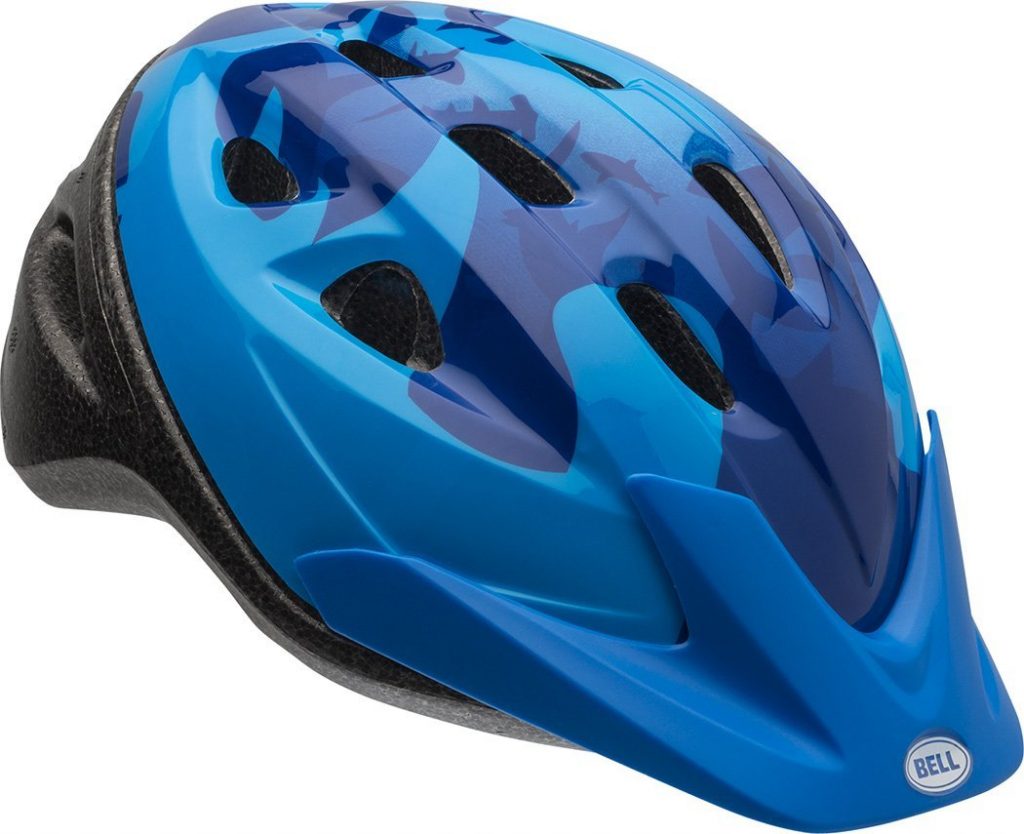 On top of having a self-adjusting fit belt and being a perfect fit, this helmet has 16 vent holes around the shell for maximum comfort during summer. Its buckle has a pinch guard that ensures that your kid isn't pinched when wearing the helmet. As for the size, it can fit any kid with a head circumference of between 52 and 56cm. The inside dimensions are 6″ width and 7" length- that's a perfect size for 3-6 years old.
If You don't have to worry about the chin strap being loose because they are held in place by a pair of fixed support straps. The foam padding inside is well shaped to rhyme with your kid's head shape. As for the buckle, it's an easy hook-in so your kid will have an easy time buckling and unbuckling it by him/herself. The shell, on the other hand, is sturdy and of a good quality.
​
Is your kid choosy on colors? Does he/she love bright colors? This helmet has got you covered. You will have 8 different beautiful and bright color patterns to choose from, all of which are within the same price bracket. Your kid will definitely love the butterflies.Pros
Comfortable straps and buckle.
Sturdy and durable shell.
Beautiful.
Cons
5. Giro Scamp Kids Cycling Helmet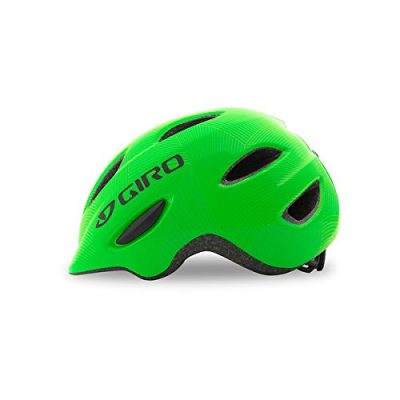 With 14 beautiful, bright, and kid-friendly colors to choose from, you can never get it wrong with this cute helmet. It has an in-mold polycarbonate shell with EPS liner that gives your kid some extra comfort. As for your kid's safety, the helmet employs the Roc Loc Jr. ft system with pinch-guard buckle that keeps the helmet well in place at all times. It's also very easy to put the helmet on your kid, particularly if he/she hates wearing helmets.
If your kid's head circumference is between 17.75 and 19.25 inches or 45-49 cm, the XS model will be the best choice to go for. If he/she is bigger, go for the S size which fits well for kids whose head circumference ranges between 49 and 53cm. In case you wish to buy a bigger helmet for your kid to grow in, don't worry because this helmet has a turn dial at the back that you can use for size adjustments. Besides that, the chin straps are elastic and adjustable. This helmet is packaged in a cute Giro box- it's an awesome gift option for you.Pros
Solidly made.
Kid-friendly colors.
Perfect fit.
Lightweight.
Cons
It doesn't have the MIPS technology.
4. Bell Child Star Wars Multi-Sport Helmet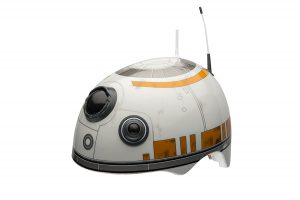 The first thing to amaze you with this kids' bike helmet will be its unbelievably affordable price, particularly considering its high quality. The padding is good enough for all the protection your little one needs when biking as well as in multiple other sports. When placing your order, you will need to be extra careful because it comes in toddler, child and youth sizes- choose wisely. The right size for a 3 to 5 years old- a head that measures 51 to 54cm in circumference- is the child size.
Some of the additional safety features in this helmet include the adjustable nylon chin strap, a sturdy outer shell, and the easy to tighten straps. Buckling and unbuckling this helmet is also very easy even for a kid.
To save you the hustle of convincing your kid to wear a helmet, this item is designed in a kid-friendly way; your kid will even refuse to get it off for this. It has droid eyeballs that are made of an extra-hard rubber on the front and some soft rubber antennae at the back. The antennae are of a reasonable length and bend easily when a kid tries to remove or break them.Pros
Great cushioning.
Cool design.
Highly durable.
Cons
It doesn't have any holes for ventilation.
Runs a little bit small.
3. Bell Child Frozen Cycling Helmets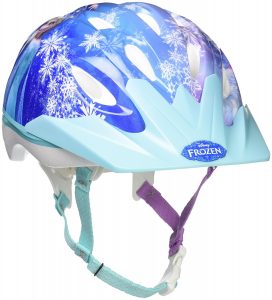 Just like other frozen kid helmets, this helmet has the True Fit system that enables it to self-adjust to a perfect fit. It measures 50-54 cm (approximately 19-11/16 – 21-17/64 inches), so 5 years – 8 years kid will most likely fit in it. Its safety measures include a Pinch Guard that ensures that your kid is comfortable on a long biking day. There are highly visible rear reflectors which also add to the little one's safety.
The straps are soft, elastic, adjustable, and are well held in place by a couple of fixed support straps. The bottom wrap design makes the helmet even more comfortable. Wait until your little girl sees the 3-dimensional tiara and the gem attached to it- she will love this helmet tenfold. That's not to mention the light blue plastic visor attached to the front.
The cooling system in this helmet is more than sufficient- it has 12 ventilation holes that are carefully placed from the rear, through the top, to the front.Pros
Fits perfectly.
Nice looking.
Affordable.
Solidly made.
Cons
2. 3D Web Slinger Multi-Sport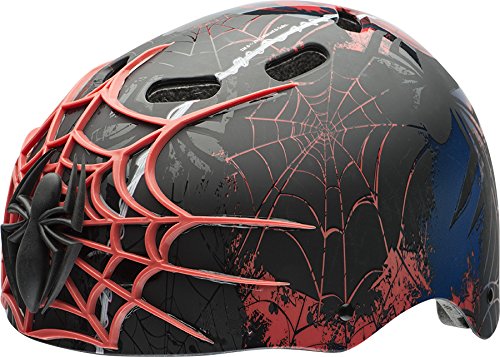 This helmet is CPSC bike compliant, but your kid can wear it for other outdoor sports like ice skating and kayaking. Its buckle has a pinch guard so you will not have problems convincing your kid to wear it. The head sizes for this helmet range between 51 and 54 cm, but you can always customize it to your kid's fit using the adjustable and elastic chin straps. For an improved cooling, this helmet is designed with its ventilation holes on the top and rear areas.
With a circumference range of 50 to 54 centimeters, this helmet is ideal for a 4 to 8-year old. It's a Spiderman helmet so you can bet that your son will feel like the coolest kid in the neighborhood riding around with it.Pros
Awesome fit.
Perfect for preschool age kids.
Cute and cool design.
Cons
Doesn't have good enough padding
Expensive
1. Razor V-17 Child Multi-sport Helmet
Top on our list is this helmet with an ergonomic interior padding and an additional sizing pad for maximum comfort. Its ventilation is like none other: 17 large vent holes evenly distributed all around the shell. The helmet size is perfect for kids with a head circumference of between 21.5 and 22.5 inches- ideally for ages 5 to 8 years.
With the side release buckles, you or even your kid will not struggle much getting the helmet on or off. The helmet is also decorated with three decals; one on the front and two on the sides.Pros
High quality.
Easy to adjust.
Great padding.
Sufficient ventilation.
Cons
Conclusion:
If your kid loves biking, then the best gift you can give him/her is one of the ten products we have discussed. They are all designed with your kid in mind: the kid-friendly color patterns, designs, and buckling systems mean that all the trouble you go through trying to convince your kid to wear a helmet is gone. Remember that riding bikes is one of the best exercises your kid can ever undertake. Equip him/her in the best way possible.