Every traveler feels at ease when his or her money, phone, cards, etc are secure but within reach and the best way to do this is using a money belt. It should be easy to access, have plenty of room, should be lightweight, durable, waterproof, RFID proof and above all, store your money and credit/debit cards safely. Today we will look at the 10 best money belts in the market and help you to choose the perfect companion to stash your money and valuables when you are on the move.
Best Travel Money Belts Reviews
There are a huge number of options available when it comes to money bags and you might end up confused and unsure about where you want to invest your money. This review will help you with that as we have chosen 10 of the very best and review each one of them comprehensively so that you can make an informed decision.
10. Travel Money Belt Stash Venture 4th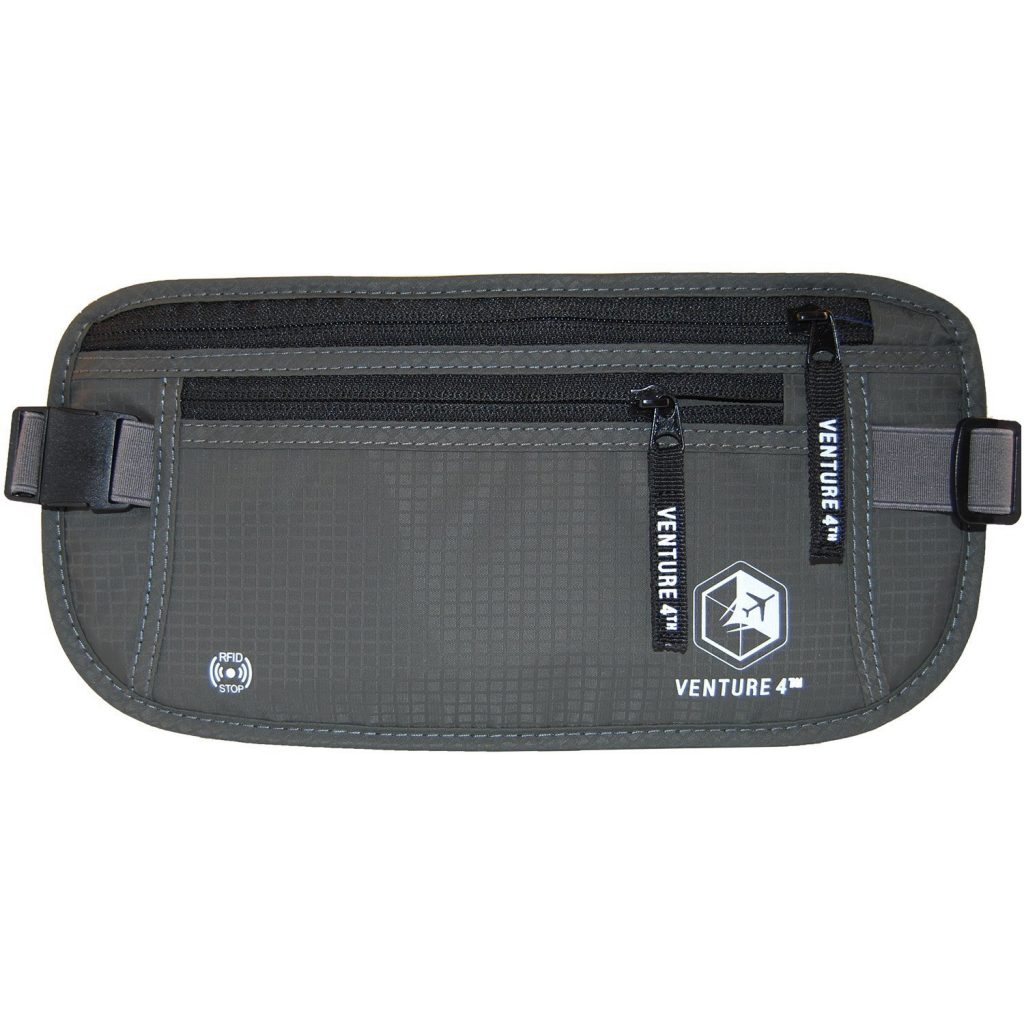 Coming at an attractive price point, this belt will securely store all your small valuables such as money, cards, phone, earbuds, etc. The material used is durable enough and it looks pretty standard. It will sit flat on your body and the waistband is both stretchable and adjustable. This makes it comfortable to wear. There are two front pockets with zips so you can store your money and passport separately.
It is large enough to fit a big mobile phone as well. It also comes with an RFID blocker keeping you safe from identity theft. The belt has a mesh covering at the back which means that even if you are sweating a lot, this belt won't cause any discomfort. To top it all of it comes with a 12-month money back guarantee.Pros
Adjustable strap, 12-month money back guarantee, don't stick out
Cons
Not fully water resistant
9. CTM Men's Leather Travel Money Belt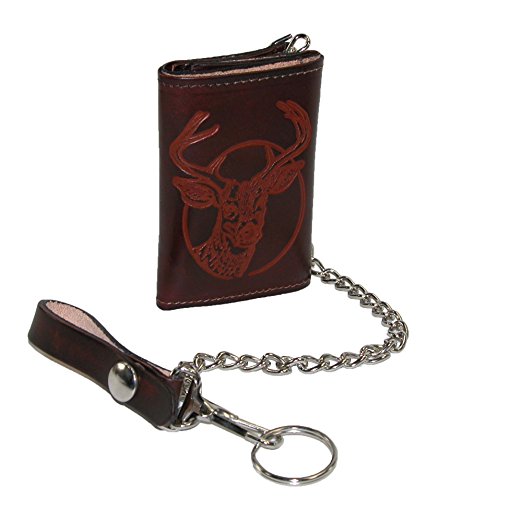 This belt is perfect for those who want to keep their money safe without anyone ever noticing it to be a money belt. It looks very much like a regular belt. This, of course, makes it very limited in the amount of money you can carry as there isn't a lot of space. It can easily fit 20 dollar bills but that's about it. If you want to carry your phone or cards then this won't be of much use. The advantage is that it can be worn like a regular belt meaning nothing will be sticking to your body.
It can be used as a backup space for money stashing. It is very discrete and unless you say it out loud, no one will suspect you of carrying money in your belt. The quality of materials is very average and its durability isn't great either. The black color tends to peel off with time because of which it loses its shine. A perfect companion for short journeys, not so great for long vacations.Pros
Very discrete looks like a regular belt
Cons
Not very durable, cannot store a phone or card
Read also: Top 10 Best Men's Leather Belts in 2021 Reviews
8. Zero Grid Travel Security Belt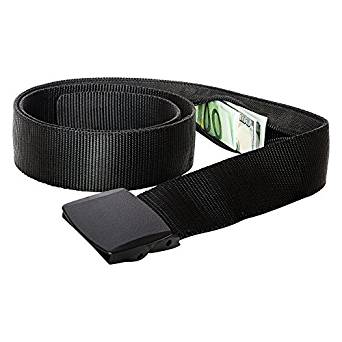 This is another option that looks like a regular belt but functions as a money belt. It is a bit more stylish and durable. The money can be securely hidden away and being very much a regular belt, you do not need to carry any extra bit of clothing on you. It comes with an RFID blocker to stop identity thieves. The buckle is not metallic which allows you to get through airport security without having to take it off.
This again will not be able to hold a phone or a card and is primarily meant as a backup in case your wallet is lost or stolen. The material used is comfortable and the buckle looks good but feels cheap. It can break under heavy stress and hence needs to be handled carefully. The zipper ensures your money is secure and it is easy to access saving you from the hassle of fumbling around to reach it. It is a great option if your travels include a lot of field work and you need a lot of mobility.Pros
Durable, lightweight, good looks
Cons
Buckle can break easily, cannot store cards and phone
7. Hiker Money Belt Made in the USA by Thomas Bates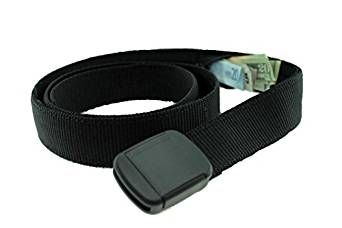 If you want more color options for your regular belt sized money bag then this is a great option. It is lightweight and very durable and comes in multiple color options. The currency notes can be easily kept away hidden from site. The materials used are of pretty high quality and the belt is comfortable to wear.
The buckle design and build quality are also very good and if you are going on a short trip or a hike and only want to safely store some money then this is a great option. The buckle is non-metallic which means that getting through security is a breeze. The belt is washable as well. The zipper is long allowing you to store more money. Again the buckle is the weak link here and needs to be handled gently to avoid cracking the plastic.Pros
Good looking, long zipper
Cons
Weak buckle, cannot store cards
6. AIKELIDA RFID Blocking Travel Wallet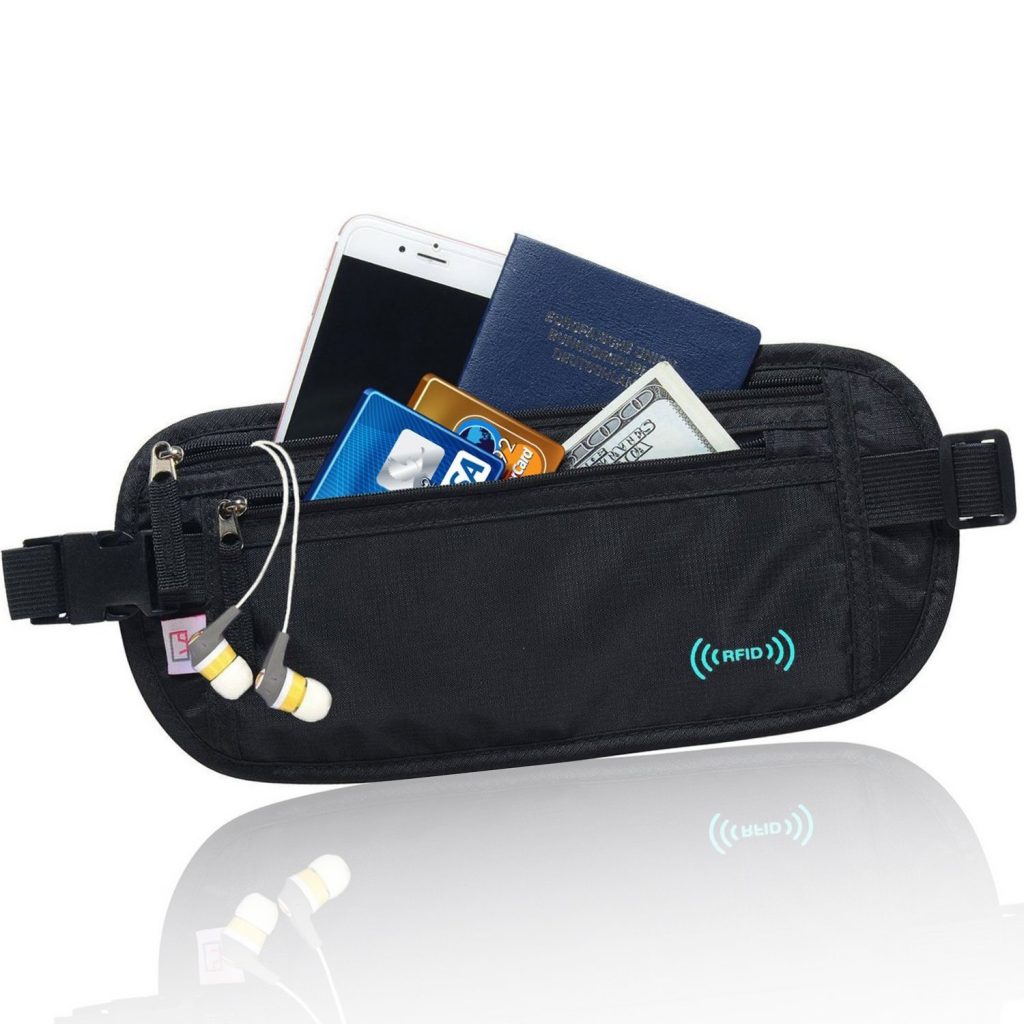 This durable and lightweight money belt is made of nylon and it is thin enough not to be easily noticed yet it is spacious enough to hold currency notes, coins, mobile phone, credit cards, passports and your ear buds and keep them safe and secure. The RFID blocker will ensure that all your digital data is safe. There are separate pouches for your currency notes and passports. All this with a very comfortable waistband that won't stick uncomfortably to your body. It is also resistant to water and other corrosive agents such as mildew.
The strap is strong so it won't break when you are moving around and if it gets dirty you can wash it easily as well. All this at a very competitive price which makes it a great buy. The only problem perhaps would be in the looks department as it looks kinda cheap. Also, it can be sometimes hard to reach into the pouches and could irritate you if you are in a hurry. The strap also tends to become loose over time and that might give you a feeling of the money belt being insecure.Pros
Great price, waterproof, money back satisfaction guarantee
Cons
Strap tends to become loose, looks average
5. Premium Travel Money Belt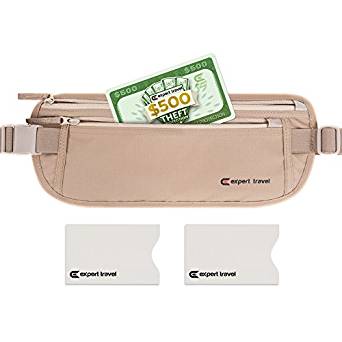 Sometimes it is inevitable that even the best security measures can be beaten and that is where this belt offers a great and innovative way out. It comes with theft protection. That is an added layer of security that few can match. Coming to the actual product the build quality is great and the zippers feel sturdy and smooth to operate. This allows you to use it fairly roughing without having to worry about damaging it. The color option though might not be to everyone's liking but as it is meant to stay hidden, this should not be a concern.
All this quality comes at a price though as it is a bit uncomfortable to wear and not totally discrete either. All this is a small price to pay in return for the secure feeling and the peace of mind it provides when you are traveling. The clips and clasps fit securely and there is enough space inside to hold folded money, passports, multiple cards and even other documents. The RFID blocker does its job pretty well as well. A great way to keep your valuables close to yourself when on the move.Pros
Very secure
high build quality
Cons
Dull looking
A bit uncomfortable
Read also: Top 10 Best Pregnancy Support Belts in 2021 Reviews
4. Travel Money Belt with Global Recovery Tags
This money belt goes one step further to offer you peace of mind. Sometimes just getting monetary compensation for a lost or stolen item is just not good enough. Along with providing a theft protection, this belt also comes with two global recovery tags which you can stick to your most valuable belongings. Due to a partnership with ReturnMe, these two items with the recovery tags can be tracked and recovered from around the globe. ReturnMe is the world leader in the lost and found service and their service actually works which means that even if you misplace your phone or an important document.
It can be tracked down and recovered within 24 hours in most cases along with the compensation you will get for theft protection. The actual belt is quite good. There is plenty of space and multiple compartments to organize your money, passports, cards, coins, and phone. The RFID blocker works fine and the build quality is decent and it looks okay as well. It is not quite durable though and the fabric will start to fray with regular use. Also if your journey involves a lot of wear and tear then this will get in bad shape much sooner.Pros
Cons
3. Hopsooken Travel Money Belt
The best value for money belt in the market. If you are looking for the perfect allrounder that does pretty much everything that is asked of it in a decent manner then this is a great option for you. It comes in many attractive color options and the materials used are great. Made of nylon, it is waterproof and does not tear easily. It does make it slippery though and will move around a lot especially if you have to run or jog with it. The two zippered components have enough space to store your keys, credit cards, money, and phone.
The mesh pockets inside will help you to separate different denominations allowing you to organize your money neatly which lets you pull out your money discreetly when needed. The durability is great and this belt will last many outings before you need to buy a replacement. A worthy investment that offers great returns for the money you pay for the high security and durability.Pros
Great price
Highly durable
Lightweight
Cons
Can be bit slippery and tends to bounce if you are running or jogging
2. Travel Money Belt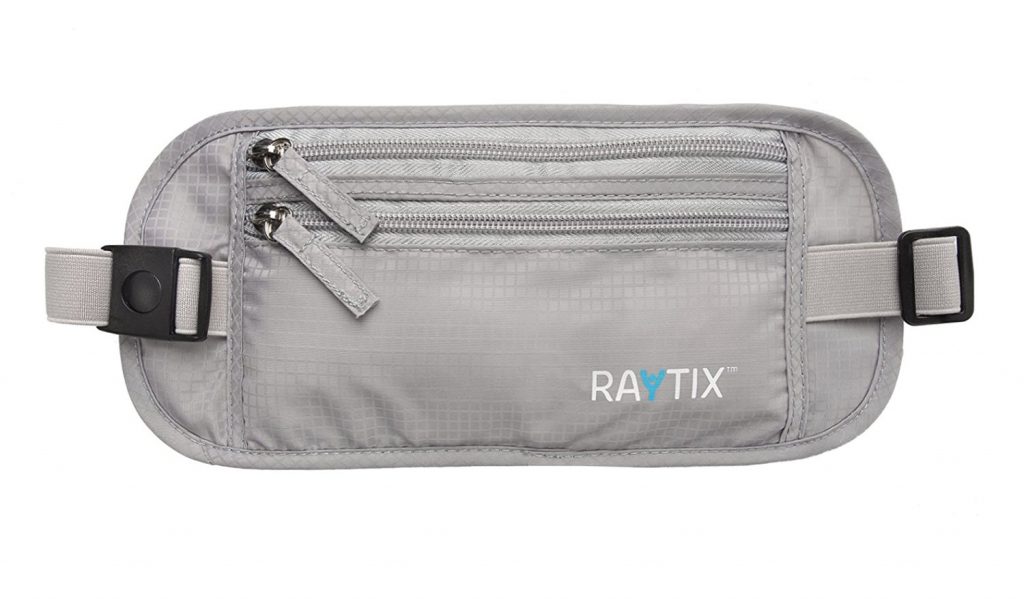 If you are looking for the perfect compromise between functionality, price, and comfort then this money belt is your best bet. It has a premium look and is made from the best quality materials at this price point. It is very comfortable to wear and is inconspicuous enough not to stick out like a sore thumb. The design is compact and thin while still offering ample room to store multiple passports, keys, coins, currency notes in different denominations and your phone as well.
The fabric is smooth and breathable in the rear making it very comfortable to wear. The zippers are great quality and the strap and the clasps are strong and secure. You can wear this while doing physically strenuous activities without it hindering you or bouncing around. It is also water resistant and the buckles are the more reliable double release type.
The compartments are large enough to keep your currency notes unfolded and your passports with room to spare. The RFID blocker does its job well too. This is a perfect choice for someone looking for a straightforward and simple yet reliable money belt.Pros
Exception build quality
very comfortable
water resistant
Cons
Does not absorb sweat easily
1. Money Belt For Travel With RFID Blocking Sleeves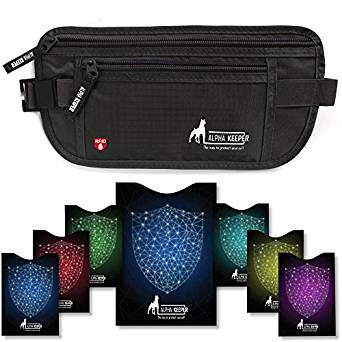 One of the most like money belt in the market and for good reason. It is one of the best-made money belts in the market. Very securely stitched with quality fabrics and the best zippers seen on a money belt means that all your valuables are safe and close to you.
The best in class RFID protection ensures that all your credit cards and IDs are safe from even the most persistent digital pickpockets. The money belt is comfortable to wear and it is very reasonably priced. You can wear it while going abroad or while going for a run. The secure and comfortable fit will ensure that it does not stick to your body but it also does not bounce around which means that you can do things freely.
It also has a port for earbuds which is a very simple yet highly required featured allowing you to keep your phone safe and secure and still be able to enjoy music on it. To top it all off, it looks great too and there is plenty of variety in the color options available. Overall the most trusted money belt in the market right now.Pros
Best build quality
RFID protection
Durability and comfort
Cons
Conclusion
These are the best money belts available right now. Each has its own set of strengths and weaknesses but one is where they all score high is insecurity and you can rest easy while owning one of these as they will keep your money, cards, keys, and phone safe while offering the freedom to travel with freedom and peace of mind.